Blemish Visual Novel (Demo)
A downloadable game for Windows, macOS, and Linux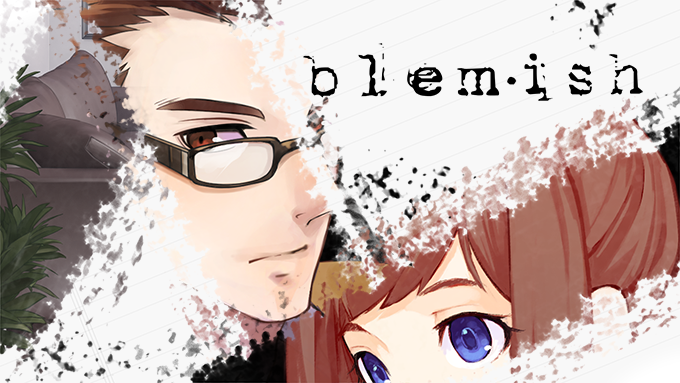 Coming soon to Kickstarter on August 1, 2017! Follow Pavior on the Twitter for updates!

Blemish is a psychological drama visual novel game with suspense elements. The game will consist entirely of first-person narration and dialogue between characters. There will be pivotal choices that will change the outcome of the story.

Tobias Gamble is a family therapist whom various married couples recommend to others in the small city of Flanston. He's praised for his familiar way of association and candidly speaking on his own experiences as a married individual. Having little doubt in his career, Tobias yields a proud and charismatic nature, at least until after he associates with his first adolescent patient.
Zoe Matthews, the patient in question, is found dead in her bedroom after committing suicide. It isn't long before the event becomes gossip throughout the city, and Tobias' composure is left shattered. Wallowing in guilt, he trudges along to his next patient, another young girl by the name of "Millicent."
Tobias commences the assessment disheartened and distrustful of his ability, and he'll soon find there's little rest to be had.
Custom character and background art.
Original thought-provoking soundtrack
Multiple choices with four endings.
Mature themes (violence, profane dialogue, and disturbing descriptions)
Morris: Creator/Writer/Composer
Credits
Kelly & Mashiko Saoto: Character Sprite Artists
Pavel G: Background Artist
Hishnul: Trailer Character Animation
DovahKitteh: UI Programming
Install instructions
Download the .zip file and extract it to your directory of choice, then run the BlemishDemo.exe in the resulting folder.
Download
Comments
Log in with itch.io to leave a comment.
hello Pavior, do you have a gmail account I could contact you on? I may have a potential collaboration proposition I wanted to run by with you.

goodluck on completing this!
Such a fascinating premise. The demo kept me on the edge of my seat the whole way through. Looking forward to future updates, and good luck with the kickstarter campaign!